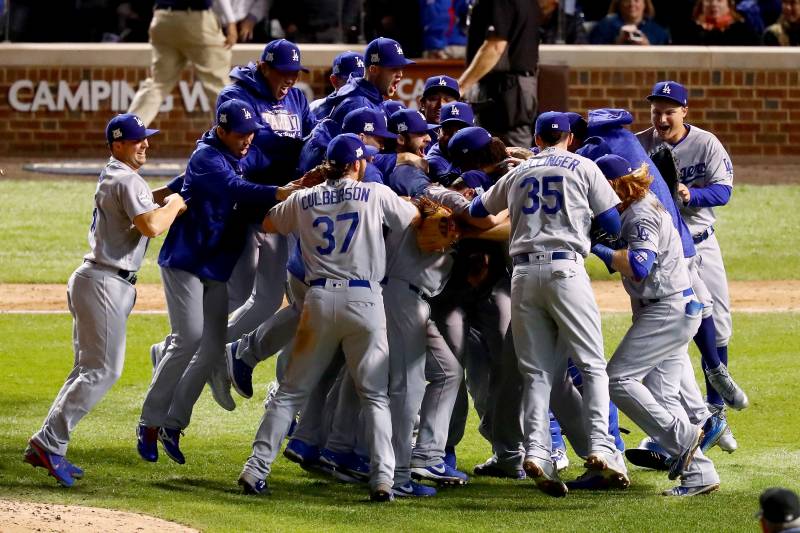 Stacy Revere/Getty Images
For the first time since 1988, we can all finally say it…
"WE'RE GOING TO THE WORLD SERIES" !!!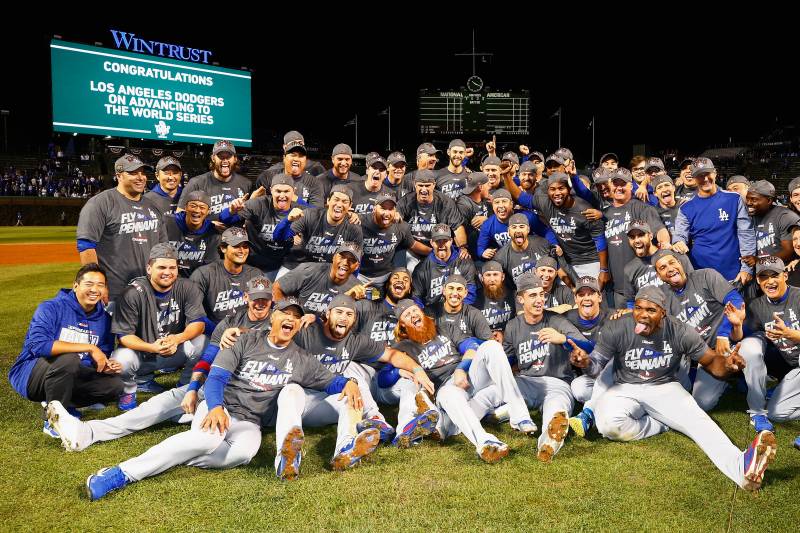 Jamie Squire/Getty Images
Leading Off…Game 1…Gibson Makes An Appearance
Oh yeah, Debbie Gibson with the national anthem. Thank you Debbie for not making the anthem a 5 minute affair. Something magical about Gibson and Game 1 of the 1988 World Series…
It's been 29 years since we've seen our Boys In Blue in the big dance. They will be facing off against an old NL West foe, the Houston Astros…
1988…A Special Time for L.A. Sports Fans
Aside from the magical season from the Boys in Blue, 4 months prior, L.A. celebrated another championship…
Other happenings from 1988…
1988 would mark the last year of the Reagan administration
Who Framed Roger Rabbit was the box office topper…
Bobby McFerrin's words to us…" Dont Worry, Be Happy"
Drei's Favorite 5 Moments Since '88
In the 29 years that we've waited, there have been lots of moments after moments, both joyful and heartbreaking. My 5 favorites that I witnessed at The Ravine, since '88…
5. Back to Back NL West Titles
The 2nd of 5 consecutive division titles would be clinched against the hated ones. Though a magical night, it would be the hated one's with the last laugh in October…
4. '08 NLDS Clincher Against the Cubs
The Chicago Cubs, baseball's best regular season team in 2008 with 97 wins, entered the NLDS as heavy favorites over The Blue. The Blue would not only knock off the Cubbies, they would sweep them in 3 straight en route to their first NLCS appearance in 20 years
3. 100 Wins and Not a Wild Scene in The Bay
In the final season of the pre Wild Card era when only division champions went to the playoffs, the 103 win San Francisco Giants needed to win on the regular season's final game to force a one-game playoff against the Braves for the NL West. The Blue, having had their party ruined in 1951, 1962, 1982 and 1991 by the hated ones, we're more than glad to return the favor. For the Giants, in Barry Bonds first season in the dreaded Halloween colors, 103 Wins and Not a Wild Scene In The Bay
2. 2009 NLDS, Game 2, A Happy Holliday at Chavez Ravine
Down to their last out and having the series tied at one, James Loney would hit a fly ball to Matt Holliday in what appeared to be the final out of the game. 
Holliday's error would prolong the inning, and 2 batters later, Ronnie Belliard would tie the game with an RBI single. After a walk to Russel Martin to load the bases, Mark Loretta would come off the bench and deliver…
Loretta's game winner would send the Dodgers up 2-0 to St. Louis. The Dodgers would complete the sweep 2 nights later en route to an NLCS rematch with the Phillies.
1. Wherever It Lands…The Finley Slam, October 2, 2004
Down 3-0 heading to the home 9th, the Jints we're 3 outs away from cutting the NL West deficit to a single game heading to the regular season finale. The Jints ( Yes I said it…) bp would implode, and after tying the game at 3, Steve Finley, acquired in late July in a 3 team trade that sent Paul Lo Duca to the Marlins, would step up to the plate…
Finley's walk-off slam would give the Blue the 2004 NL West title. It would be their first division flag since 1995 and their first post-season appearance since '96. The Blue would make 8 other post season appearances since, finally leading to the 2017 World Series !!!
What This World Series Means For Me ?
I've done this blog for 12 seasons. I've gone to countless games both at home and on the road, experienced many a thrill and many a heartbreak. For those of you who we're around in '88 you couldn't have imagined the next time The Blue would be in the World Series you would be long past your undergrad years, have some salt on top assuming you aint got a dome, be into our 6th different administration, one that seems to do a good job of dividing this country…
In spite of our differences, after 29 years of waiting and many a new generation of Dodgers fans, our Boys in Blue are FINALLY back ! They've united a city like I haven't seen united in quite some time. Yes, we've had the Lakers bring us 5 titles during the Shaq-Kobe era and the Kings have brought us a couple of Stanley Cups. But there's just something about The Blue, a team with a deep rich history, that makes the wait all the more special. 
As for me, in 1988, I was a freshman in San Gabriel High School. I'm sure many of you have been recalling where you we're in '88 and the events that we're happening in the world, in pop culture, or even in your personal life. The passage of time does that to us. Especially when we look back upon a time that brought us plenty of joy, often times making us yearn for nostalgia. 
Me and my little bro, Daniel. I was 14, he was 3 in '88. One of my memories of Game One was watching with him and my dad in our living room, listening to our dad read 101 Dalmations during the game. "C'mon dad ! It's the World Series !!!" 
For the lil' bro, this World Series is one he and plenty of Dodgers fans born in the mid 80s and after can actually enjoy, rather than saying they won one in their lifetime…
For me, I've experienced two in my lifetime, '81 as a 7 year old kid still learning baseball and being taught by my uncles to hate Reggie Jackson and the Yankees. The Yankees would be the first team I would be taught to hate. '88 I experienced as an early teen, viewing our chances of winning the World Series, as good ol' Vin would say, " Viewing it with our hearts…" Because really, if not for being a naive teenage Dodger fan, if I saw it from a realistic and objective viewpoint, there really could have been no way we stood a chance against the A's and their Bash Brothers duo of Jose Conseco and Mark McGuire. 
But it was just that, HEART. The '88 Dodgers had plenty of it….
As I write this on the eve of Game 1, words just can't really express what this means to me. Over the years I often said The Blue will get there before I turn 50. As I said earlier, I've enjoyed 2 World Series titles, one as a kid, one as a teen, now as an adult less than 7 years from mid-life and 29 white hairs later (OK, more than 29, but who's counting?)
This is just a small sampling of memories form '88 on that I'd like to share. Fellow Dodgers fans, young and forever young, enjoy this moment. It's been 29 years. We're 4 wins away from coming completely full circle. LETS GO DODGERS !!!